HORSE SHOE MOTEL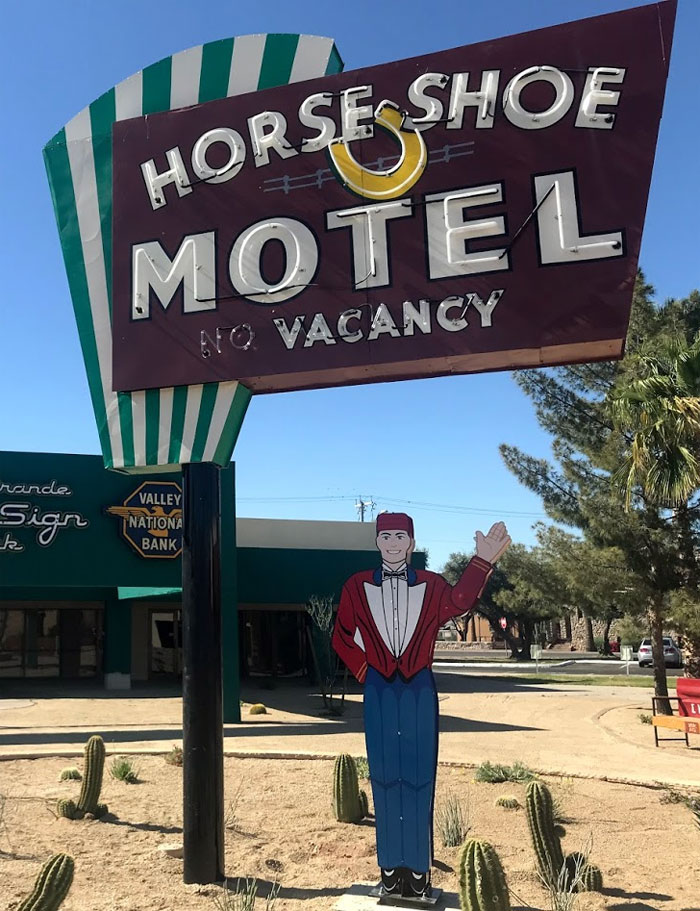 1136 E. Main St.(Currently Jimmie Kerr Blvd) On Hwy. 84
Motel Constructed 1943 • Sign Installed 1953
Initially owned and operated by Ernest and Ann Kobema, this typical 1940s roadside motel was originally named the Horse Shoe Lodge. Advertised as clean, modern, aircooled units, panel-ray vented heat and carports, it was later known to be one of the first motels in Casa Grande to install air-conditioning. In the 1940s, newspaper articles mention winter visitors staying for a month at a time. The sign and awnings were saved when the motel was demolished in 2004. The awnings were repurposed by Casa Grande Main Street in 2006 during the Second Street Alleyway Project and again in 2013 for the Doors to the Past Project.
The base for the sign changed a couple of times over the years. Last year a photo was revealed to us showing a "Waver" bellhop next to the motel sign in the early 1950s. These waver signs were developed in the late 1940s by the National Animated Sign Co. of Hot Springs, Arkansas. A light was installed behind the waving arm's hand to indicate when a motel had vacancies or whether a business was open. Only two of these original bellhop signs remain in the country, others are in private sign collections. Say hello to Paul, our reproduction of the Horse Shoe Motel waver.
Motel Sign Donated By: City of Casa Grande/Historic Preservation Commission
"Waver"
Sign Sponsored By: Casa Grande Historic Preservation Commission
Plaque Sponsor: Lynda Williams (Horse Shoe Motel owner 1989-1996)
Plaque & Pedestal Project: Casa Grande Historic Preservation Commission (HPC)
Casa Grande Neon Sign Park: A Partnership of Casa Grande Main Street, HPC and the Donovan Kramer Family, Casa Grande Valley Newspapers Inc.